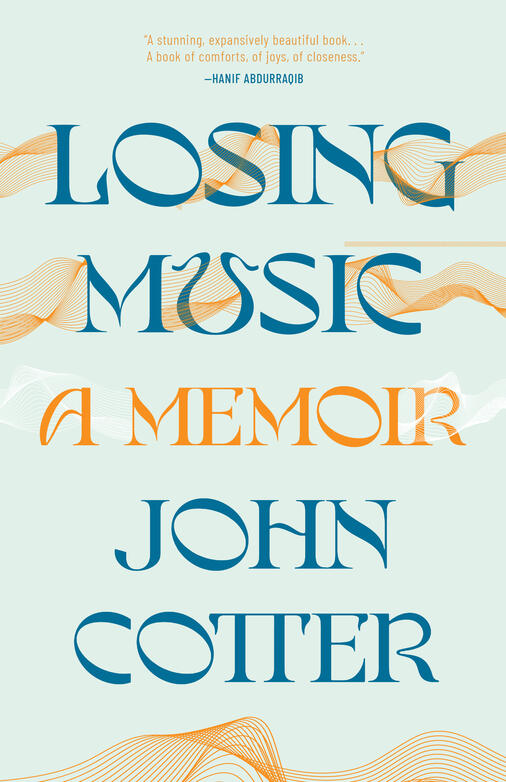 "Losing Music comes closer to expressing the transcendent sensation by nearly being music itself."  —The Wall Street Journal
Available from: Amazon, Bookshop.org, Indie Bound, Barnes & Noble, Books-a-Million. Audiobook from: Audible, Blackstone Audio, Google Play, Libro.fm. 
Milkweed Editions describes Losing Music as, A devastating memoir that sheds urgent, bracingly honest light on both the taboos surrounding disability and the limits of medical science, Losing Music is refreshingly vulnerable and singularly illuminating—a story that will make readers see their own lives anew.
"A stunning, expansively beautiful book…A book of comforts, of joys, of closeness."—Hanif Abdurraqib, author of A Little Devil in America
"It's smart and sad and funny, a beautifully written account of his gradual loss of hearing from a debilitating condition often diagnosed as Meniere's Disease, but that ultimately has baffled his doctors. It's a fascinating read and a model of great autobiographical writing about the body."  –Kathleen Rooney in the Brooklyn Rail
"I'm not sure what I'd do if my body became a seemingly unsolvable mystery, and I can't know how I'd handle the fear, frustration, and despair, but I doubt I'd have either the fortitude or the imagination to do what John Cotter has achieved in this book. Losing Music is a remarkable memoir: unsettling, insightful, and gorgeously written. I'll be pressing this book into many people's hands." —Maggie Smith, author of You Can Make This Place Beautiful
 "You have all these different modes you're writing in, and you have all these different energies within that. And sometimes the stuff you're writing about is very dark.  And sometimes it's a very difficult experience … Sometimes very beautiful and very moving and life affirming." —Isaac Butler, from a conversation in Slate's podcast Working.
"John Cotter brings sound to the page as something tactile: abrasive, elusive, fluid, textured, a current between body and mind. He fashions language into a velvety pocket in a harsh world. Losing Music is a phenomenal book about what it's like to be sick and suffering, and in it, I recognize not only the isolating nature of illness, but also a powerful intimacy with one's own changing self." —Elissa Washuta, author of White Magic
Review by Mark Athitakis for Ron Slate's On the Seawall: "It's unclear to Cotter — and any of us — how much time we have left to consume, love, and share art. Through describing that uncertainty, Cotter reveals its value."
"I think the hardest thing for a personal writer to do is think well and feel well at the same time. John Cotter's writing is bursting with as much intellect as heart. It's as clear-eyed and incisive as it is moving. It's what nonfiction should be." —Lucas Mann, author of Captive Audience
Review from Publisher's Weekly: "In this bracing memoir, essayist Cotter recounts his experience with an incurable inner ear disorder….The result is a poignant reflection on disability."